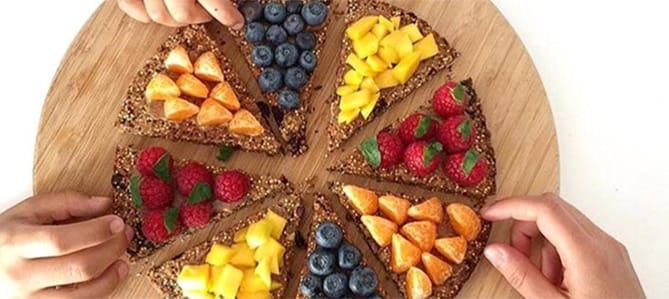 This cake is plant-based, refined-sugar free and offers a variety of essential fat sources making it a healthy treat for the whole family.
Ingredients
100 g buckwheat rolled flakes (or oat flakes)
100 g quinoa (uncooked)
25 g chia
2 tbsp ground flaxseed
1 tsp cinnamon
pinch of sea salt
100 g medium mashed banana
50 g coconut nectar
50 g almond butter
50 g roughly chopped almonds
1/2 tsp vanilla extract
Instructions
Preheat the oven to 180C and line a round baking tin with parchment paper (mine is 20cm in diameter)

In a large bowl, mix the dry ingredients: buckwheat flakes, quinoa, chia, flaxseeds, cinnamon and salt.

Next stir in the banana, sweetener, nut butter, nuts and vanilla extract. Mix well.

Scoop into the baking tin and press down firmly to form cake shape. Cook 15 to 20min or until golden. Allow to cool completely before slicing it.

Spread some nut butter on top and use any fruit of your choice as a topping.
This recipe is by our Natural Chef Graduate Asmaa Lahlou (aka AuthentikSpoon)
Click here if you'd like to know more about training to become a CNM Natural Chef.