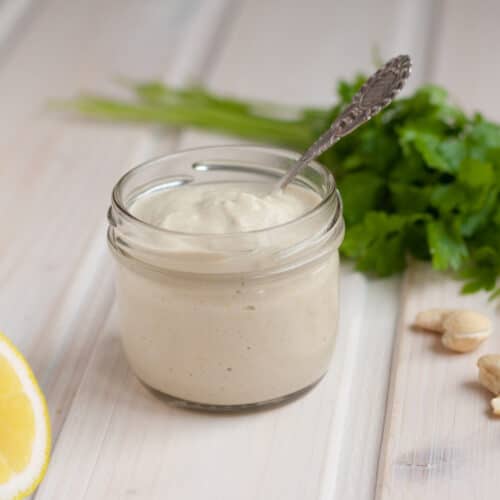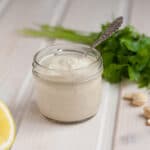 Print Recipe
Lemon Cashew Nut Mayonnaise
An easy mayonnaise which is not only better tasting than the supermarket versions, it contains no sugar or processed oils. As all the ingredients are natural it won't keep as long (5 days in the fridge, but you won't find it hanging around that long anyway!)
Ingredients
200g cashew nuts – pre-soaked for 4-8 hours

100-125ml unsweetened almond milk

¼ lemon, zest & juice

1 tsp Dijon mustard

Pinch salt

1 tbsp apple cider vinegar
Instructions
Place all the ingredients in a high speed blender (but only half the almond milk at this stage).

Pulse to combine, scraping down the sides to ensure all the ingredients are incorporated.

Blend on a high setting for a couple of minutes, check the consistency and add additional almond milk, enough to create a thick mousse-like consistency, in between pulses.

Taste, re-season if required; salt, apple cider vinegar or more lemon
Notes
This mayonnaise accompanies beautifully the Pea Burger. It will keep in an airtight container in the fridge for 5 days. Experiment using different herbs and spices to create flavoured mayonnaise.
Caution: fresh basil and mint leaves bruise easily and may turn black, giving an unappealing look to the condiment.
CNM recommends the use of organic ingredients. Recipes by Chef and Nutritionist Francesca Klottrup for the ICSA-accredited Natural Chef Diploma Courses at the College of Naturopathic Medicine (CNM).