CNM students and graduates come from all walks of life and backgrounds. What links them is the desire to help others to better health, and their commitment to having a fulfilling and flexible career.

I left my corporate Sales job
I can hardly believe I'm in my final year with CNM; it has been such a whirlwind of exploration, learning and mind opening revelations about what we put into our bodies and how it affects us, that the time has just flown by. It has been so interesting that at times I've found it hard to have the patience to wait until my next lecture or clinic weekend. I really feel as though my eyes have been opened to the world of health and wellness and it's wonderful knowing what that humble piece of broccoli sitting on my plate is going to do for me when I eat it!

A passion for improving people's health
Why did you decide to take up a career in Natural Medicine?
My interest in nutrition began in my 20s when I tried various diets to lose weight. I became confused with so much conflicting information out there and soon found that many of them were unsustainable, led to rebound weight gain and were even bad for my health. The more I read up on it, the more interested I became in the area and decided to study Nutritional Therapy to take my health and weight management into my own hands. I developed a passion for improving people's health, helping people to achieve their weight goals and all the benefits that come along with it, through eating a healthy balanced diet.

I wanted to do something meaningful
After spending 8 years in property development, I wanted to do something which would utilise my interest in natural medicine. I tried a couple of correspondence courses on the subject but they didn't work out because I'm better at face-to-face learning.
I was delighted to study part-time as I had to fit in study around my work and growing family. After graduating I practiced my skills in a medical centre, but I got so busy that I set up my own clinic. I've even been on a TV health program. I'm so lucky to be living my dream. It's such rewarding work, watching patients going through amazing healing.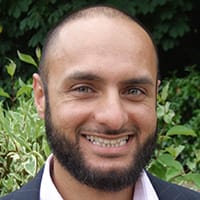 Next: How to apply?